Franchise in need of online presence with e-commerce capabilities
Tsunami Express is a small chain known for its fast and affordable car washes and environmentally friendly service. After selling a previous franchise, the family owned business had opened its first location in Kansas and was in need of an online presence to help build their business.
To get to the next level, it needed a website and app that would enable customers to pay for a car wash, entice them to become VIP members, and find the nearest location with ease. Having collaborated with Connections Marketing in the past, the owners selected us again.
Client Details
Tsunami Express Car Wash
Services
App Design & Development
Copywriting
eCommerce
Website Design & Development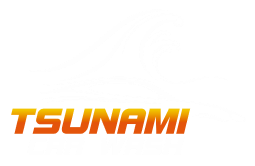 How we helped client achieve expansion goal
The goal was to entice customers in multiple states with a new, user-friendly website that steered customers toward making purchases, becoming members, and finding nearby locations with ease. Tsunami Express achieved this with bold, playful graphics and a highly navigable website and app. The new site became a main hub for customer information where users can see which products and services are available near them and sign up for exclusive promos and discounts.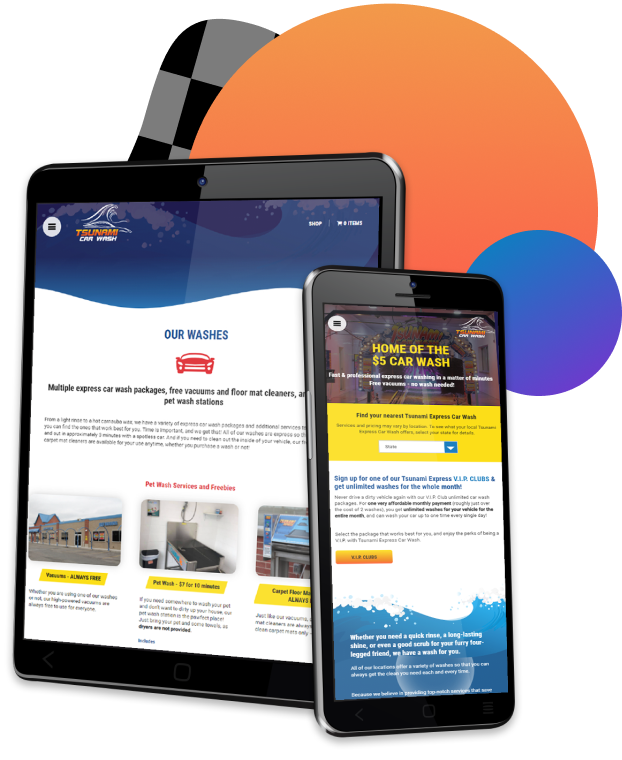 Challenges
One hurdle was to marry the concept they were seeking with a feeling of reliability and professionalism. It was important that online visitors felt this was a company they could trust to handle their vehicles. This presented a fun challenge to step outside the boundaries of a typical web design. We decided to go with something a bit whimsical and unconventional for an auto service.
Solutions
Knowing the client needed something striking to stand out, we started by researching the competition. That helped us provide a one-of-a-kind layout and appearance that also highlighted the right information for clients. We incorporated bold visuals to match the colors in the client's car washes and marketing materials. Finally, we teased the tsunami theme with fun effects like a rolling wave for the footer and parallax bubbles to ensure a visually memorable interaction with the website.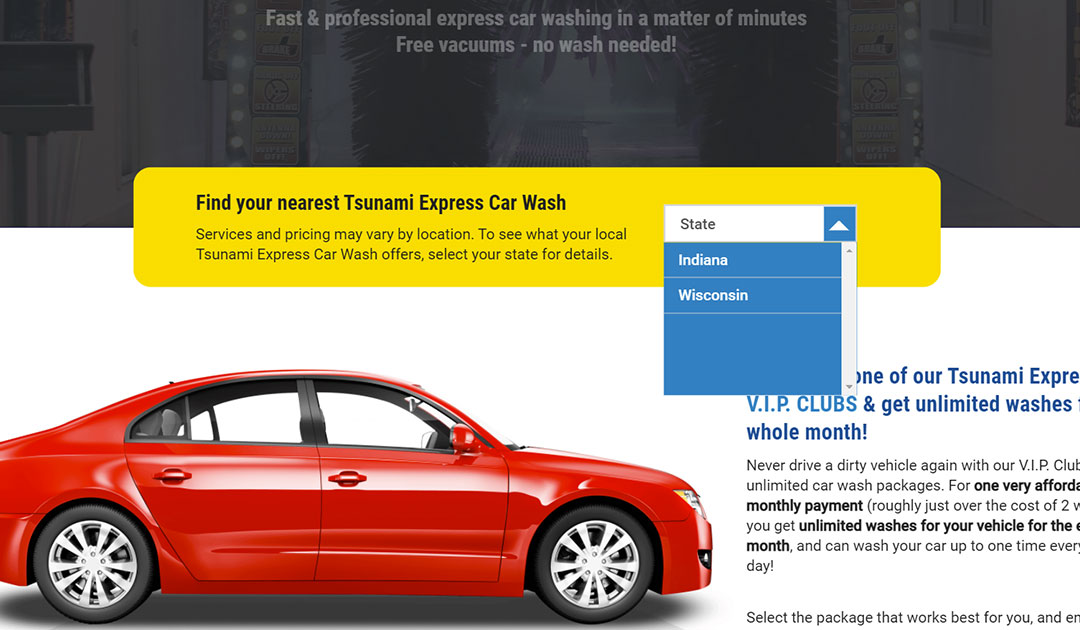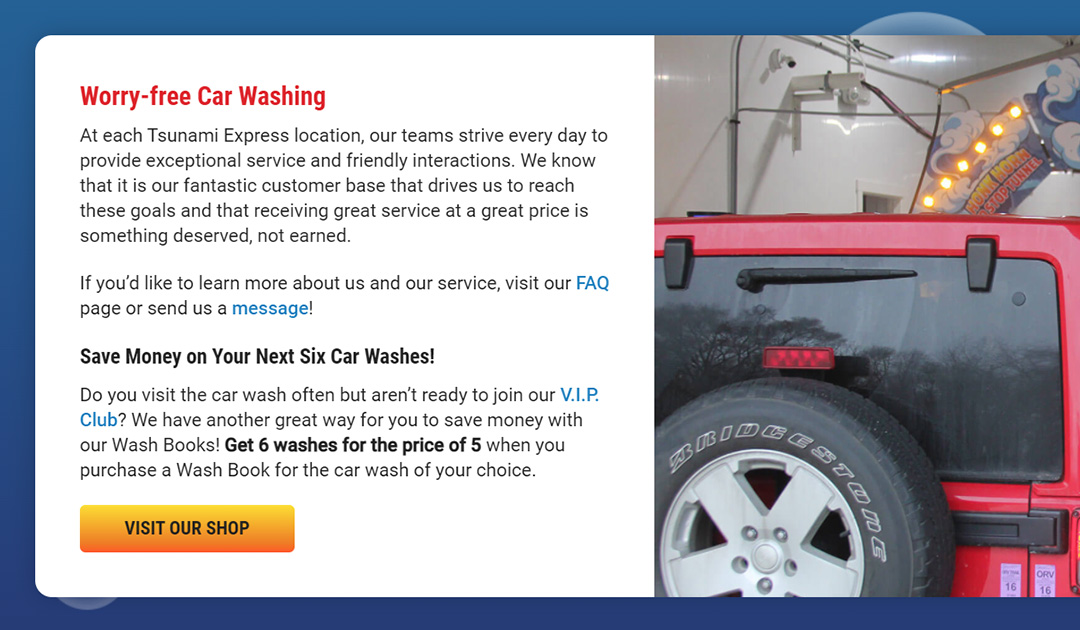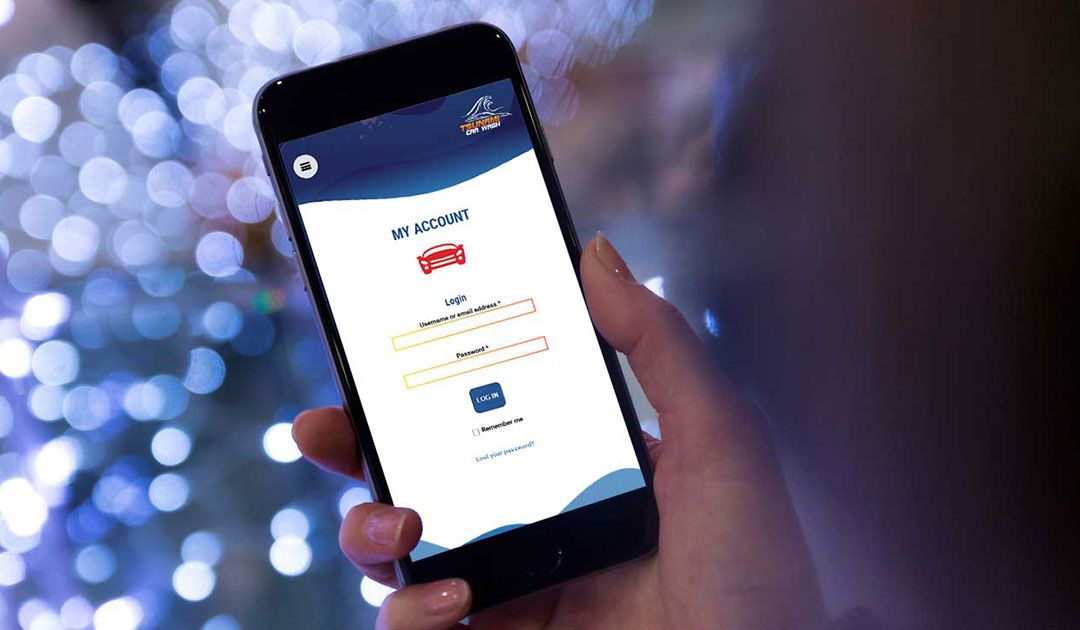 Website design & development
A fun, attractive website and location finder helps customers quickly find the nearest Tsunami Car Wash, purchase car wash gift cards online, and share authentic images that build the brand's following.
Copywriting
The engaging content provided by Connections Marketing helped build clientele at new locations in different states. Concise calls to action on each page steer users toward making a purchase. The copywriting attracts loyal patrons with a brand that is fun, community-oriented, and family-friendly.
App design & development
A custom-designed Tsunami Express app compliments the website and provides customers with an alternative way to engage with this client. It builds their customer base with the same playful, engaging personality, but also provides added value to customers who want exclusive access to discounts and promotions.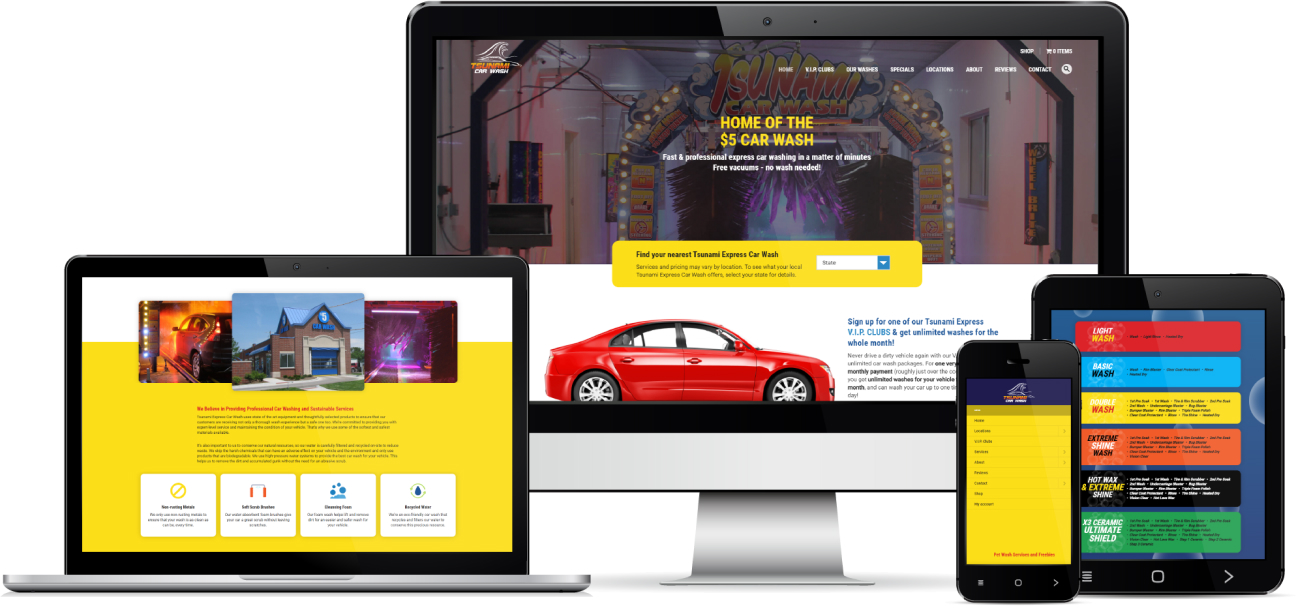 "Long term, Tsunami Express now has a beautiful, functional website and app that are flexible for any new additions or modifications they may need. Since launch, they have enabled SMS marketing, as well as driving downloads to the app for exclusive deals and promotions."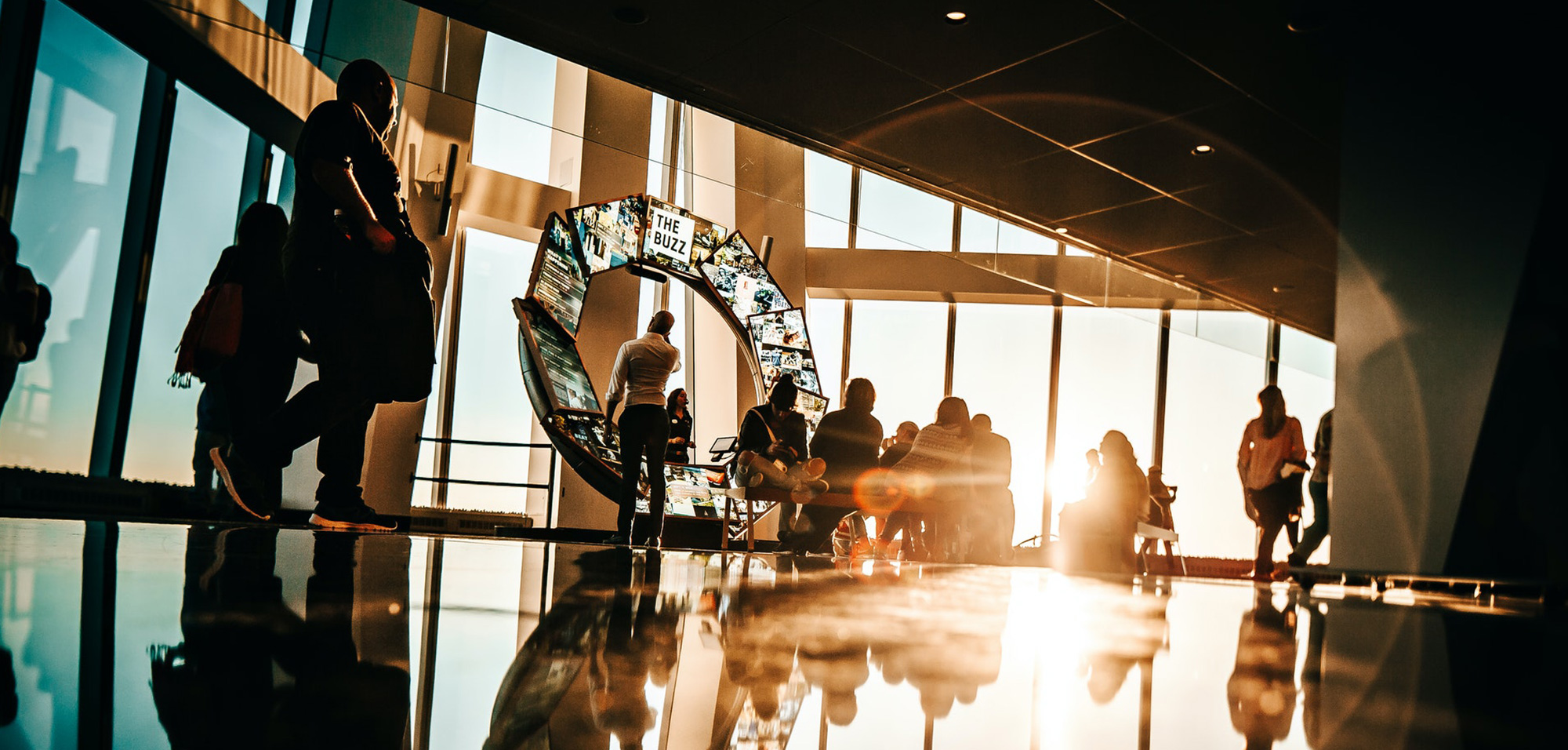 App Design & Development, Content Management Systems (CMS), Website Design & Development, Website Maintenance & Support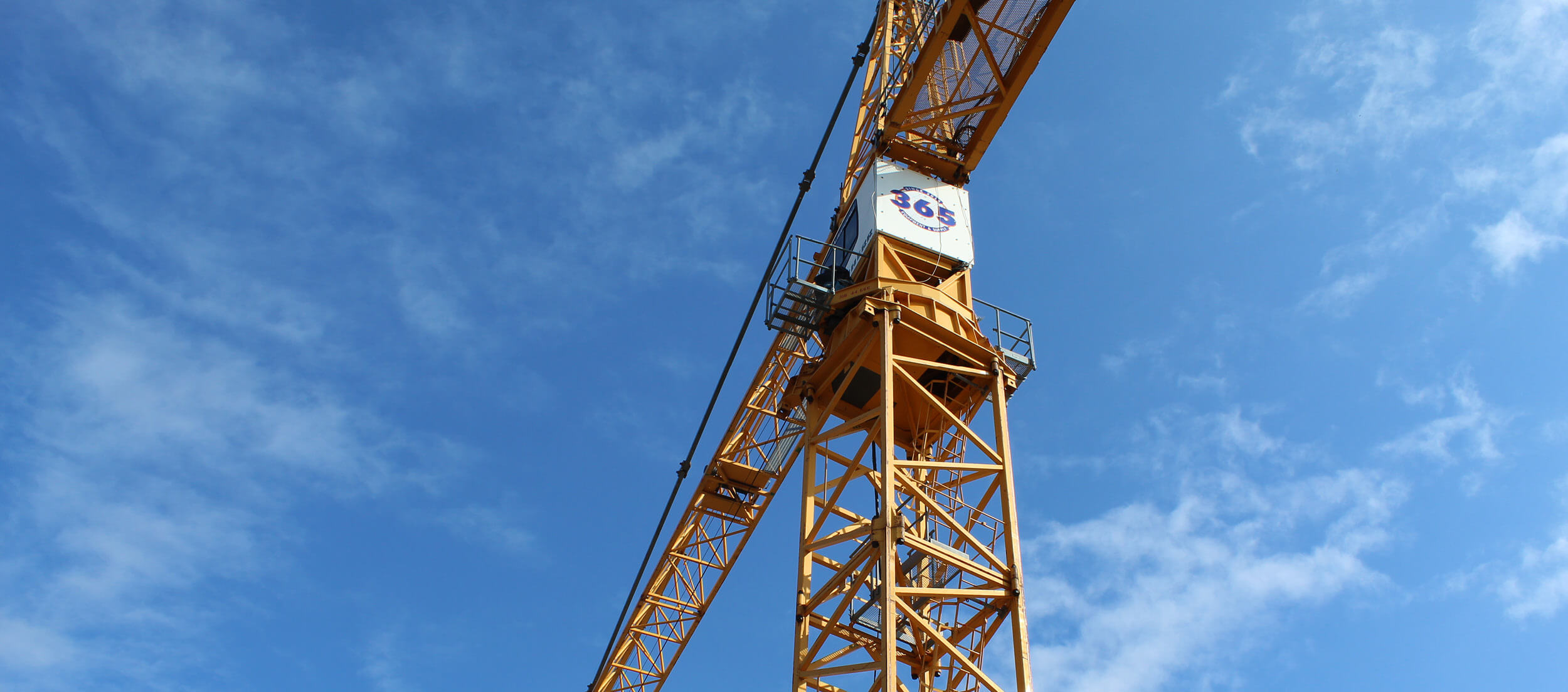 App Design & Development, Content Management Systems (CMS), Copywriting, eCommerce, Website Design & Development

App Design & Development, Copywriting, Website Design & Development