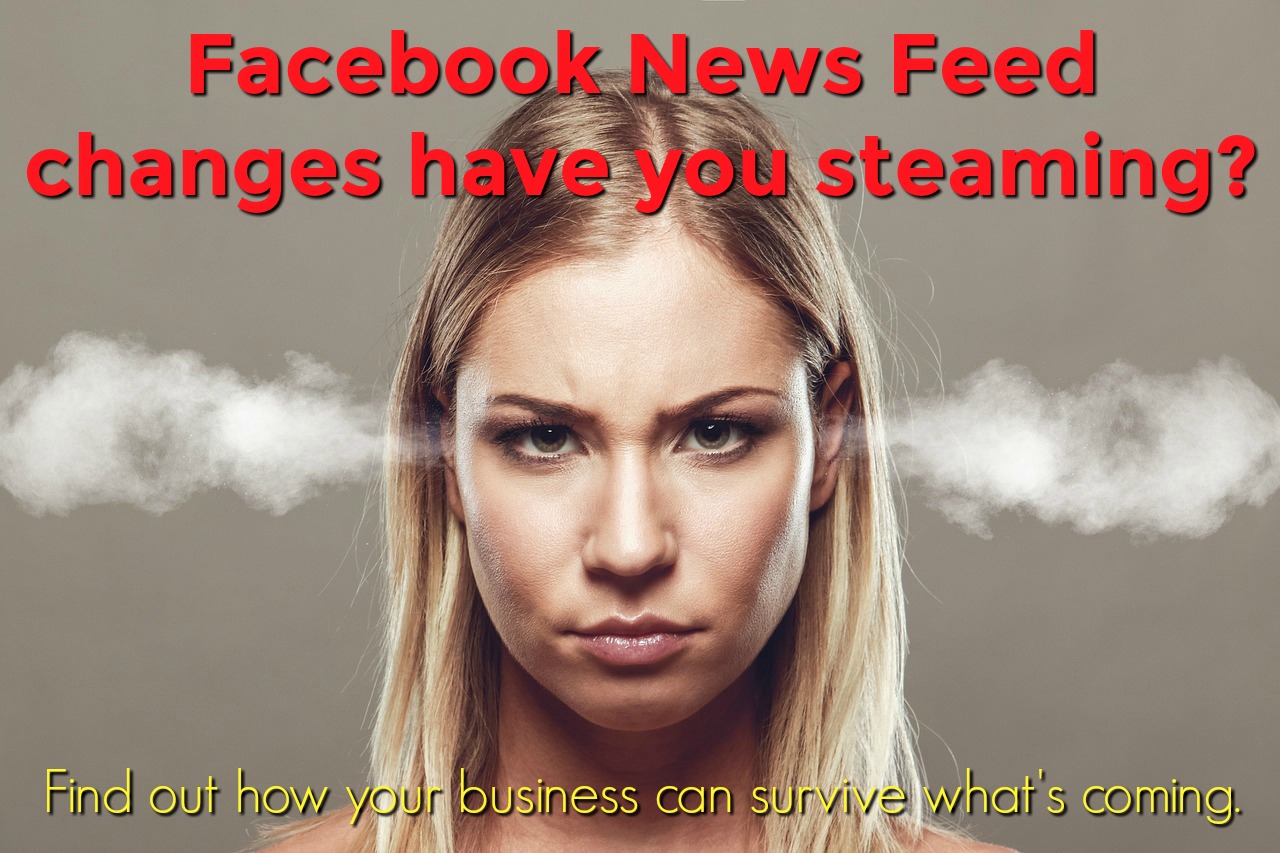 Consumers Go to Facebook First to Get Info
Nearly 50% of consumers aged 18-34 head to social media before buying to research options for items they're considering.
In fact, Facebook is now almost as influential to consumers as Google.
News Feed Changes for Facebook in 2018 & How Your Business Can Survive
The changes coming to Facebook's News Feed are drastic, but businesses can't overlook the sheer statistics.
74% of consumers make buying decisions based on what they see on social media.
While the changes may make social media marketers and business owners alike want to scream to the hills in aggravation, the facts point to the same thing.
Facebook is still a very vital place for businesses to be.
Let's take a look at the changes that are coming. Some you may have heard, and others may catch you by surprise.
Either way, you're going to want to prepare yourself.
Change #1 – Facebook is Shifting Its Focus to Relationship Building
Creator Mark Zuckerberg expressed his desire for the platform to return to what it was originally designed for.
A community where friends and family can connect.
This presents a particularly difficult situation for business owners and brands that have spent the better part of the last decade focusing a large amount of their attention on the organic reach the platform provided.
Moving forward, Pages can expect to find Facebook's algorithms:
No longer focusing on finding relevant content for users
Prioritizing posts from friends and family
Geared toward more meaningful experiences & interactions
So…what should your business do?
Focus on Building Relationships with Your Followers on Facebook
As a business owner, it can be difficult to not put everything you offer on social media.
Keep in mind, in order to run a successful social media campaign, the attention to your services and products should be given focus on your website.
Social media is the place for building relationships, not selling your services.
To overcome the latest algorithm changes coming to Facebook and still succeed in gaining traffic to your site, you need to:
Create posts that add value for your audience
Personable is the new authentic – be a real person with your followers
Engage with your audience – respond to comments, likes and shares
Change #2 – Facebook's Algorithm is Cracking Down on Forms of Automation
We've always known that the minds at Facebook are truly innovative in the ways they're able to develop smarter systems and algorithms.
These systems aid in preventing 'cheaters' because they sniff out the ways that users have outsmarted their algorithms, and they punish those users by limiting their reach.
These systems also provide hindrances as well.
Social media marketers and business owners are constantly searching for ways to save valuable time while still providing quality content and links back to their website to increase their inbound marketing efforts.
Facebook's News Feed changes are going to affect posting by:
Low to no reach for posts deemed as 'spammy'
Reach pulled back for auto-scheduled posts through third party platforms
Posts geared towards sharing products and pushing sales are punished with low reach
How can you generate posts that still have reach?
Re-Think Your Posting Strategy
While it may be a difficult pill to swallow, as with anything in digital marketing, you must quickly adapt to the changes or get left behind.
In order to keep the social media strategy for your business from failing where Facebook's News Feed change is concerned, start implementing these changes TODAY:
Schedule posts directly through Facebook
Only include outbound links to your site on 25% of your posts
Stop wasting money boosting posts – it won't help your cause
Change #3 – Facebook is Moving Toward an All Video Platform
The implementation of video has fundamentally changed the way people interact on social media platforms.
Videos are now where people go to find their news, products, and entertainment.
Research shows that viewers retain 95% of a message when it's watched through video compared to only 10% when reading the same message in text.
Here are the changes rolling out for Facebook's News Feed in regards to video:
Priority given to videos with completion rates of at least 50% (ie: video = 1 min, it must be watched at least 30 sec. by users to gain priority)
Larger focus and priority going to Facebook Live videos
How should your business tackle the rise of video on Facebook?
Embrace the Use of Video on Social Media
With the fact that Facebook is moving towards an all-video platform in less than five years, it's past time for your business to get on board.
Make sure whenever you're including video in your posts that you're uploading the videos directly to Facebook.
Don't simply provide the link to the YouTube video.
Remember: Facebook's goal is to get you to stay on their platform.
In order to properly embrace the use of video on social media, ensure you:
Create videos that are between 45 and 120 seconds
Use Facebook Live more often for posts than pre-recorded video
Utilize tagging and title features when posting video to Facebook (this is how people using the search feature on Facebook will find your video)
Change #4 – Facebook Business Pages and Brands Are Moving to a Separate News Feed

Facebook Business Pages and Brands Will Be Fighting Harder Than Ever For Attention on the Regular News Feed
This is perhaps the biggest and most detrimental factor for businesses on Facebook that we've ever seen.
Eliminating the ability to grow your business through organic traffic on Facebook.
With businesses and brands already seeing only a mere 2% organic reach (on a good day), this change is likely to drop that low rate by another staggering two-thirds.
Business and Brand pages reach will be at staggering lows
Paid ads will become the only viable way for businesses
Businesses will be forced to pay-to-play in order to gain reach
What should your business be doing to be seen on Facebook?
Start Utilizing Laser-Focused, Targeted Ads
While your business page posts will be nearly impossible to be seen organically, paid Facebook ads will remain highly visible in the News Feed – right where all of your followers are.
It's imperative to start focusing your social media marketing efforts towards laser-focused, targeted ads before your business page becomes irrelevant.
You must do more than just place an ad on Facebook.
Your ads need to convert, and it takes skill to know how to make them.
Your ads should:
Include a value offer people can't resist
Utilize behavioral targeting
Funnel the user through to a landing page for conversion
Knowing how to keep your business surviving through the massive changes coming to Facebook in 2018 will certainly place you above the rest.
With over 60 million active business pages on Facebook, it's more important than ever that your business gets a leg up before these changes are fully implemented.
Otherwise, you'll be lost in the abyss of organic content Facebook isn't allowing to gain reach, never to be seen again by your followers.
Facebook's News Feed changes are already beginning, and businesses are seeing a drop in their already dreadfully low reach.
Unsure how to implement a successful paid ad campaign for Facebook that includes a value offer people can't resist, utilizes behavioral targeting, and generates leads for your business with cohesive ad-to-landing page branding? Give Connections Marketing a call.
Don't let your business suffer anymore than it already has with the changes to Facebook's News Feed algorithm!
Whether it's for developing successful Facebook ad campaigns or taking the load off your back of creating and scheduling posts directly through the platform itself, we handle it all.