Have you been asking yourself if you need an app for your business?
I know, it probably feels like just yesterday the world was trying to convince you that you need a responsive web design (which you do, so check out more about responsive web design), and here we are again saying that you might need something else now. But the world of technology isn't stopping to consider what your business should invest in. It will keep progressing, whether your business follows along or not, and so will consumers. So, if you want to keep up with the demand that advancements place on your customer base, you should seriously consider whether or not utilizing mobile app development is right for your business.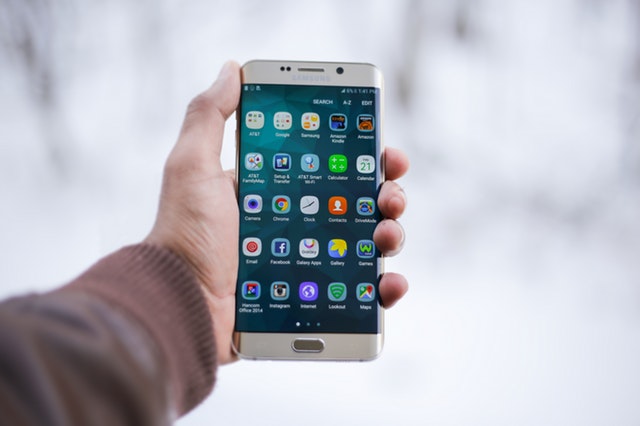 What is a Mobile App Anyway?
A mobile app is not the same as a mobile or responsive website. A mobile or responsive website is accessed through a browser and requires an Internet connection. A mobile app, on the other hand, is a software application that is downloaded and installed onto your mobile device from an app store.
While mobile apps may pull content from the Internet, they can also provide the content within the downloaded app, removing the need for Internet access. These apps can then be accessed locally from a user's device at any time.
Pre-installed mobile apps power pretty much all of the functional aspects of your mobile device, be it phone or tablet. Most of what you do on your device is done on an app, from the alarm clock and weather apps to Safari and your contacts.
Understanding the Need for Mobile App Development
Apps are useful for a lot more than playing a game or getting on your favorite social media network. They help connect brands to their customers, improve customer service, and increase revenue and communication. And if you're wondering if there is enough value in investing in a mobile strategy for your business, check out these facts from Comscore's 2017 US Mobile App Report.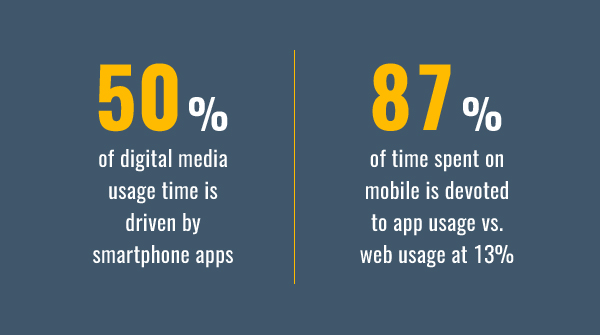 While we know that having a responsive web design for your site is imperative these days, this data shows that having a mobile app may be too. Users want to use apps.
This doesn't replace the need for a website, but rather, it should complement your digital presence.
What Can An App Do For Your Business?
Apps are functional tools that solve problems for a business. For some businesses, like e-commerce or entertainment, the reason for wanting an app is fairly cut and dry – bringing your product to the masses where they are. And where they're at, is apps. But for others, the need might not seem so apparent without a more thorough understanding of what an app can actually be used for and the what the benefits might be of having an app for your business.
We know that users are looking for apps to fulfill their needs. If you don't have a mobile app to find, they will find another company that does. So, if you can fulfill a need, you need to have an app for your business. Below are several examples of how apps are helping businesses solve problems:
Increase Revenue
Increasing revenue is one of the top reasons for wanting an app for your business, and understandably so. An app is just another method of marketing your product or service, and as long as you invest in developing a strong plan for it, it can become an additional avenue for income.
Better Internal Communication
Apps can be used internally as an easy to use, connected system. Document sharing, directories with messaging and video chat features, and event listings and registrations are a few of the ways a mobile app can encourage collaboration in the workplace and connect remote offices or employees.
Improve Customer Service
An app is a great way to boost customer service and interaction. Businesses that find themselves knee-deep in customer communication would do well with an app where users can find tailored information, receive instant customer service, manage their accounts, or leave reviews. Think of your website as the global representation of your product or service. An app for your business could be the more personal, customer care center of your company.
Instant Customer Communication
One of the most beneficial aspects of having a mobile app is the use of push notifications. Push notifications are messages sent from the backend server to the user, where they appear somewhere directly on their screen. They are typically opt-in on the user end, and do not require the user to actually be in the app in order to receive. Push notifications can be used to send messages to your users whenever you want to notify them of special offers, urgent news, local data, and more, and they have a great click-thru rate.
Brand Recognition Enforcement
Staying at the forefront of your customers' minds is a necessity. Having a cohesive brand will help encourage that. When a user downloads the app for your business, even on those days that they are not using it, they will be seeing your brand while swiping through their devices. Making smart choices on your app's icon and logo designs is important here, because this is what the user will be identifying you by. They may not need your service at that moment, but the odds are that when they do, your brand will be the first one to pop into their mind.
While there's still more to cover where mobile apps are concerned, hopefully you are beginning to understand that there's more to an app for your business than you may have originally thought, and you can start seeing the possibilities out there for one to become a successful branch of your brand strategy.
Did this blog spark an idea for a new app for your business? Let's get together to talk about it and see if an app is right for you!