Being a part of the marketing industry is oftentimes exciting and thrilling, but it also comes with an ever-changing landscape that is sure to keep you on your toes. When I realized that Digital Summit was going to be a mere three hours away from me in Kansas City, KS this year, I knew it would be a marketing-geared conference I wouldn't want to miss.
And boy, was I right!
Digital Summit 2018 was loaded with incredible information, insight, and strategic tools for navigating the constant shift of waters in digital marketing. While there was more than enough valuable info shared to write an entire book, I've summed up my top five takeaways from the conference.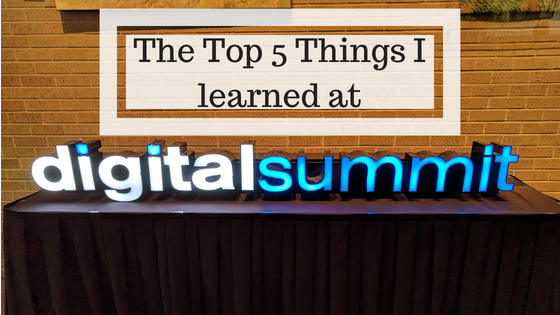 1. Content Marketing is Driving Sales – Not Salespeople
While we're all used to hearing by now that we need to be creating and nurturing relationships with our customers by putting a face with our brand and getting ourselves out there through video messaging and live offerings on social media, we're also in the day and age where people are just plain busy.
Everyone is running at a pace that's nothing short of just trying to keep up, and majority of society doesn't feel they have time to spare for meeting with salespeople. Instead, they turn to content for finding answers, researching products and reviews, and making buying decisions.
In fact, 57% of purchase decisions are completed before ever reaching out to sales.
This means that quality content marketing is all that more necessary if you want your business to succeed and sales to continue to grow. And your content should have already sold your customer before they ever contact you.
2. Keywords Should be Written as Though You're Speaking to Alexa
Virtual assistant devices such as Alexa, Google Home, Amazon Echo, and more are shaping the way of SEO.
In the past, short phrases sufficed for building your keyword ranking. Then, long-tail keywords became the norm as Google got smarter and peoples' searches became more detailed.
Now, people are conducting their search by voice, not computer, and while we may type in abbreviations or shortened phrases, we still talk as we always have. If we have a question, we ask it in question form. If we want to see something, we ask in a full sentence to be shown.
Much like the evolution of keywords from short to long-tail, voice-directed search devices are shaping the future of SEO. So, when you're putting your content together or building your SEO plan, consider how you would search for it, and then use that form.
These keywords currently have less competition, better conversion rates, and are exactly how your customers are searching.
Even more reason to adjust your keyword approach: 93% of purchases begin with online search. 75% of those searches never make it past page 1, and 51% of website visits are driven by organic search.
3. Email Best Practices
With over 269 billion emails sent per day, email is still the preferred method of contact for consumers from brands.
However, your brand's messaging can get lost in the mix if you aren't following these best practices in your emails:
Keep it brief. Include a link to read more or get additional info.
Your "From" should always be a REAL PERSON. Not a 'donotreply@companyxyz.com'.
Make your emails visually appealing and branded.
The design should be a single-column, skinny layout.
Include images that do the talking for you. Images with content layovers eliminate the need for extra copy that won't be read.
The simpler, the better. Remember: everyone's pressed for time. They won't take more than a couple of minutes to read what you have to say.
4. Welcome Emails Matter
While we're on the topic of emails, have you ever subscribed to a blog or brand channel only to hear crickets?
Brands that send a welcome email to each new subscriber have much higher opening and conversion rates than those that neglect this simple task. Currently, 43% of companies aren't sending these emails to their subscribers. And they're missing out on huge opportunities because of it.
In fact, those that include a welcome email experience 4x the open rate, 5x higher click-through rate, and a 33% increase in long-term engagement.
So, what happens when those companies start sending out real-time emails rather than batched welcome emails?
They see 10x more from transactions rates and revenue per email.
Those are pretty compelling figures and should be more than enough for your company to jump on the welcome train and set those emails up to go out in real-time.
5. You Need to Get Your Employees on Social Media, Yesterday
In the world of social media, every additional like, comment, share, or retweet matters. The more of those you get, the more visible your content and brand become.
It can be difficult within your own company to get your staff on board with following your page, let alone liking and sharing your posts. However, those people are your closest network, and if you can get them to share, your social media campaigns will only grow that much faster.
Companies that experience employees sharing posts from the business page see 8x higher engagement in their campaigns and a 561% increase in their reach!
And if that isn't enough to make you want to get team members on board, this might be:
Employees of socially engaged companies are 20% more likely to stay. 27% of them are much more optimistic about their future within your company, and 40% see your brand as more competitive when you're active on social.
While these are just the top 5 things I learned at Digital Summit 2018, there was SO much more valuable information garnered, and our team is excited to start putting these pieces into place for our clients.
Interested in implementing any of these changes into your digital marketing plan? Let's get in touch!