As you work with your marketing team or are in the process of interviewing some, you may hear marketers use buzzwords when explaining your campaign…but do you understand what those buzzwords really mean?
It's important for you to become familiar with common marketing terms because they are used quite often, and if you are the decision maker, you should understand what it is you are looking at, agreeing to, or even looking for/need.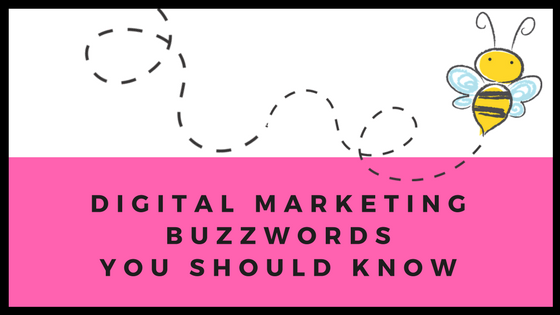 I've compiled a list of buzzwords clients have asked me about as the SEO Lead for Connections Marketing. Check out the list below, and see if any of these sound familiar!
Common Digital Marketing Jargon
A/B Testing
A method that will allow you to test two versions of a webpage or landing page to see which one performs better.
We typically run A/B tests when we are trying to research or understand user behavior, improve user experience, and more importantly, when we are trying to improve a website's conversion rate.
Bounce Rate
This is a metric that helps you track single-page sessions with no interaction.
This could be if someone lands on your homepage and then immediately leaves without clicking any links or trying to go further into your website.
High bounce rates are not good because it shows that your webpage is not keeping the viewer engaged enough to explore through your website.
Conversion
This refers to when your target user completes a desired action on your website, social media page, eblast, etc.
Example: Your website's goal is to capture contact information for your service. The conversion is when a user submits their information via a contact form. Your user "converted" and is now a lead.
CRM
Customer Relationship Management (CRM) is a system that helps you manage your contacts. It is a system that I recommend EVERYONE have in place.
A properly set up CRM should have buckets set up for leads and existing clients. There are many types of CRMs, from very simple to very robust, but the overall goal for a CRM should be for you and your team to have a clear understanding of who your contacts are and be able to easily identify if they are a lead or a customer.
For the more robust systems, CRMs can help you determine where your clients are in the sales cycle/funnel, contact history, list of purchased products, customer issues/complaints, etc.
CTA
Call to Action (CTA – my favorite buzzword!) refers to a group of words on a website that lead the user to a desired conversion.
CTAs can be as creative or as direct as you need them to be. But be careful, and do not overlook these "small words" with BIG opportunity.
The wrong CTA may be what is stopping you from getting a conversion.
CTR
Click Through Rate (CTR) is a metric that helps you measure activity TO your webpage.
CTR measures the number of impressions or number of times your link was seen or clicked on.
Keywords
Terms your audience will use to find your product/services online.
Identifying your "target" keywords early on in your marketing plan will help you keep campaigns focused and generate quality leads.
Marketing Automation
A software that allows you to automate those recurring tasks on your plate.
There are many types of Marketing Automation platforms, but the more common ones can help you manage social media (scheduling of posts, gaining metrics), e-blasts or email drip campaigns, CRMs (lead nurturing, sales cycle monitoring), etc.
Taking mundane tasks off your plate allowing you to focus on more priority items is always great. It's always a bonus when your automation platform provides metrics!
Meta Data
Meta Data includes things like title tags, keywords, description, and alt text.
Search engines can only read code, so they are not able to view the images or videos on your website.
To help search engines better understand what is on your website and why it is important for viewers to find it online, we optimize your website by marking it up using meta data.
Persona
A persona is an online or social identity that a user develops through internet communities or websites. It can also include a user's IP address.
Creating or identifying personas helps you create a targeted marketing campaign.
If you do not know your target markets' demographics, interests, habits, etc., your campaign could be in jeopardy of low conversions.
PPC
Pay Per Click (PPC) is a method that allows you purchase advertisements with prominent placement on either a search engine, social media channel, or webpage.
PPC is recommended for those who want immediate visibility. Learn more pros and cons of PPC.
Remarketing
This is an automated method that allows you to target and market to those potential leads who've recently visited your website or social media page.
You have probably been remarketed to without noticing. Have you ever shopped online and then gone to your Facebook page or email, and all of a sudden you see an ad displaying those shoes you were just looking at?
That's remarketing.
Search engines
This refers to Google, Yahoo, Bing.
SEO
Search Engine Optimization (SEO) is a method that allows you to "optimize your website" in order to rank high (first page) on search engines.
Studies have shown that 75% of users never scroll past the first page of search results. And 70% of the links search users click on are organic (not paid ads). Learn more about the pros and cons of SEO.
At Connections Marketing, we live and breathe marketing and enjoy sharing our knowledge with you and guiding you in your marketing endeavors.
Was there a term that sounded interesting to you or you wanted to explore and learn more about? Schedule a marketing consultation with us, and we'll be happy to go over with you!